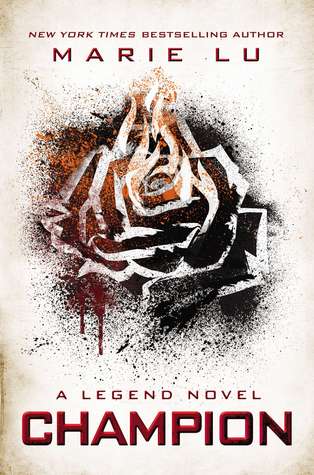 *this is a review for the third book in a series, so there will be spoilers for the first two. see the first book
Today's review is actually going to be my first for Fiktshun's Don't Let It End reading challenge, which focuses on series ending books and finally getting around to saying goodbye. As you can tell, I loved this series ending book and found it to be pretty spectacular. Today, we're talking about Champion by Marie Lu.
This was the conclusion to the Legend trilogy, which I thoroughly enjoyed even though I am not typically a fan of dystopians. The conclusion of June and Day's story was phenomenal- there was action and danger, as well as emotional turmoil and sacrifice. I think that this was the best book in the series, and it's definitely an epic conclusion that made this series shine.
The action in this story was fast paced and well written. There were scenes where I couldn't stop reading because I had to follow along and find out how that part would resolve. Day and June are facing some of their biggest challenges yet, and there's a lot happening throughout. However, there's still a really wonderful plot and story line that are not overtaken by the action.
Another fantastic element of this was that it allowed for the characters to shine as well. This is the end of our journey with Day and June, and while I was really sad to see the series end, they've developed into lifelike, dynamic characters. They have to sacrifice and work together, and I liked that their relationship isn't necessarily insta-love that can be found in many YA novels. The ending showed a lot about who they are and their relationship, and I really appreciated how Lu avoided cliches and created something unique in these characters.
Now, because the Don't Let It End challenge is about tackling those series ending books you've been dreading to finish, I want to mention why I was worried about picking up this last book. The honest answer is that I was not a fan of Prodigy. Day's character really annoyed me in that installment, and by the end I wasn't as excited for Champion. But I am so, so glad I finally read this conclusion. It's epic, emotional, and memorable, and while I'll miss the Legend trilogy, I can definitely see myself rereading it sometime, and continuing on with Marie Lu's next book, The Young Elites, which is on my 'can't wait' list!
From the paper world,
V