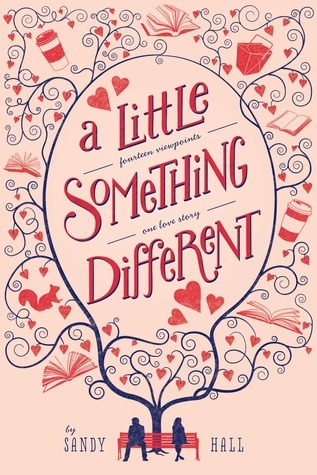 Goodreads Description:
The creative writing teacher, the delivery guy, the local Starbucks baristas, his best friend, her roommate, and the squirrel in the park all have one thing in common—they believe that Gabe and Lea should get together. Lea and Gabe are in the same creative writing class. They get the same pop culture references, order the same Chinese food, and hang out in the same places. Unfortunately, Lea is reserved, Gabe has issues, and despite their initial mutual crush, it looks like they are never going to work things out. But somehow even when nothing is going on,
something
is happening between them, and
everyone
can see it. Their creative writing teacher pushes them together. The baristas at Starbucks watch their relationship like a TV show. Their bus driver tells his wife about them. The waitress at the diner automatically seats them together. Even the squirrel who lives on the college green believes in their relationship.
Surely Gabe and Lea will figure out that they are meant to be together....
My Rating: 3.5 Stars (4 on Goodreads)
I purchased a copy of this novel.
Today I'm writing my first review of 2015! It's been awhile since my last review, but I'm excited to talk about A Little Something Different. This was my first finished read of the year, and I think it was a fun, interesting contemporary to start the new year off with. The characters are all unique and memorable, and the writing of this book is, as the title says, unlike any other. The format of this book follows 14 different perspectives on this one romance, which I really enjoyed because it brought a lot of characterization in to the side characters and really made me appreciate the different points of view. However, I will say that in some places I wasn't the biggest fan of the pacing, but overall this is a really enjoyable novel, and a great read.
Reading from all the different POVs made the characters all stand out in their own ways. Sometimes it's easy for side characters to lose depth as a story continues on if the plot needs to be furthered. But here, all the characters were narrating the story in such a way that the plot flowed through that. I found this idea refreshing and entertaining. Each change brought a new little scene to the overall story. I didn't connect as much to some of the characters, but I appreciated how each viewpoint contributed to this kind of storytelling and how it emphasized the plot development.
During the plot development and the story, I did think that sometimes the pacing was a little sporadic in rushing at points and not much happening at others, but it didn't bother me too much because the nature of the story was that it was developing by so many different narrations.
Overall, I gave this book a 3.5 out of 5 stars, but rounded to 4 stars on Goodreads because I did really enjoy it, and I appreciated the storytelling style. I think this is a fun contemporary read that's refreshing and different.
Have you read this book? If so, let me know what you thought in the comments, and if you have any good YA contemporary recommendations, let me know!
From the paper world,
V