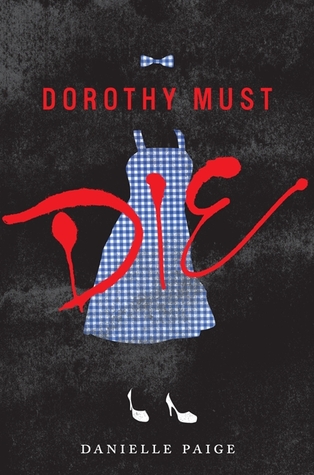 I didn't ask for any of this. I didn't ask to be some kind of hero.
But when your whole life gets swept up by a tornado—taking you with it—you have no choice but to go along, you know?
Sure, I've read the books. I've seen the movies. I know the song about the rainbow and the happy little blue birds. But I never expected Oz to look like this. To be a place where Good Witches can't be trusted, Wicked Witches may just be the good guys, and winged monkeys can be executed for acts of rebellion. There's still the yellow brick road, though—but even that's crumbling.
What happened? Dorothy.
They say she found a way to come back to Oz. They say she seized power and the power went to her head. And now no one is safe.
My name is Amy Gumm—and I'm the other girl from Kansas.
I've been recruited by the Revolutionary Order of the Wicked.
I've been trained to fight.
And I have a mission.
Rating - 4 Stars
Major Pros - Unique retelling, Action
Major Cons - Narration, Character Interactions
Continuing on with series? Yes
How I Read It - Purchased
Today I'm going to be reviewing a 2014 debut that I've really been looking forward to- Dorothy Must Die by Danielle Paige. I read this as part of a readalong with Cassi of My Thoughts Literally, who I've done a readalong before with and always has the most insightful comments that make me appreciate the book more, and also Elizabeth of Book YAbber, who I had never talked to before and I'm so excited to have gotten to know a little. Hopefully we can have another readalong soon!
Dorothy Must Die isn't a retelling of Oz so much as a continuation of how things went drastically wrong. Dorothy has returned and taken control, and Oz has undergone some dramatic and terrible modifications. I will say that I haven't read the prequel novella, which is around 130 pages (so awesome to have longer novellas!) that depicts Dorothy's return to Oz if I'm not mistaken. However, I think that's definitely going to have to be something I pick up soon, as this book has made me very curious.
There is a lot of great qualities about this book- for one thing this series has very unique characters, and there's a lot of attention to detail in the retelling. This is also different from a lot of YA I've read in that the violence and despotic rule of Dorothy isn't sugar coated- gruesome things are happening in Oz and Amy is a member of the audience for a lot of them. The story itself is unexpected, which is definitely exciting- I couldn't predict where the story was going to turn next. It went differently than what I had anticipated, and I loved the way it unfolded as opposed to what I'd expected, since it left me curious. The last part of the book is definitely where everything starts coming together. I couldn't put the book down or look away as all of the action and build up intensify. By the ending, I was ready to read the next book and continue on with the adventure.
However, I did have a few problems regarding Dorothy Must Die, and although none of them were enough to really make me put the book down there were a few qualities that bothered me. The protagonist, while interesting, seemed a little contradictory and related to the other characters in a strange way. I would notice as I was reading that her reactions and thoughts about a character could seem completely different as she was talking to them and later when she was thinking about them on her own. It felt like a little bit of a disconnect and made it harder for me to connect to Amy's narration since I was confused as to what she was actually thinking, and I didn't connect well with the protagonist for the majority of the book. In the beginning, the story felt a little scattered as Amy tries to come to terms with her situation- it made the first part of the book slow for me. The very end of the story left me with questions- not only in a cliffhanger, I want to read more sense (although that definitely did happen!) but in a questioning the logistics of what's going on. However, my only main, overarching problem was with the protagonist/narrator and despite this, I still found the story grabbing my attention more and more as it went on.
Overall, I think Dorothy Must Die is an interesting read. It has a lot of awesome qualities that make it different from other YA I've read, and I think it's fun read for a group of people to discuss. I ended up giving it 4 stars, so while I had some problems with it the good obviously outweighed the bad and I'm happy to say I did enjoy it a lot!
Have you read Dorothy Must Die or the prequel novella?