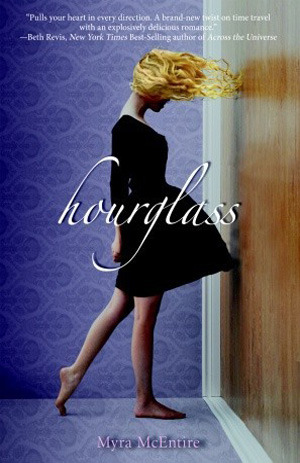 One hour to rewrite the past . . .
For seventeen-year-old Emerson Cole, life is about seeing what isn't there: swooning Southern Belles; soldiers long forgotten; a haunting jazz trio that vanishes in an instant. Plagued by phantoms since her parents' death, she just wants the apparitions to stop so she can be normal. She's tried everything, but the visions keep coming back.
So when her well-meaning brother brings in a consultant from a secretive organization called the Hourglass, Emerson's willing to try one last cure. But meeting Michael Weaver may not only change her future, it may also change her past.
Who is this dark, mysterious, sympathetic guy, barely older than Emerson herself, who seems to believe every crazy word she says? Why does an electric charge seem to run through the room whenever he's around? And why is he so insistent that he needs her help to prevent a death that never should've happened?
Major Pros - Unique, Good Pacing
Continuing on with the Series? - Yes (the sequels are told from other POVs)
Hello, everyone! I return with yet another book review, this one is for a series starter that I've been wanting to read for awhile. Hourglass by Myra McEntire has always sounded really interesting, and so I'm really glad I was able to pick up the book and read it. However, I ended up having some problems with some key elements of Hourglass, so I ended up slightly disappointed in the book. I gave Hourglass 3 out of 5 stars.
To begin, my biggest problem was with the narrator and protagonist. She was awesome for the first bit of the book and then suddenly...insta-love struck. I actually had a whole discussion post on paranormal and my recent problems with it, unfortunately that got deleted. However, one of my main problems that I'd mentioned in the post was about how insta-love can take over a paranormal. I'm the sort that likes more supernatural powers and abilities and supernatural element building than romance build up. So I was disappointed in the fact that the protagonist's abilities came in second place to 'that guy with the dreamy eyes'.
Aside from the insta-love, the protagonist was kind of obnoxious at points, especially during interactions with the love interest. The other characters were interesting yet felt underdeveloped. Typically the secrecy of the paranormal leads to the pre-supernatural adventure best friend being completely off topic in a paranormal and, most of the time, annoying to the point of making me want to skim. With Lily, however, I loved how unique and spunky her character was, and I honestly wish we'd seen more of her. The protagonist's family was another aspect I would have liked to see more of- her interactions with them were equally as annoying as the ones with her love interest, as the protagonist showed little consideration for others. Although the supporting characters weren't featured frequently, I was really impressed with McEntire's creation of a supporting cast so unique that I wanted to know more about them.
The pacing and unfolding of the story were overall well done. I was definitely invested in the story's action and mystery, and I couldn't wait to find out what would happen. The story, romance aside, was a perfect blend of action and paranormal aspects. I loved how unique the Hourglass and the protagonist's abilities were shown, although I wish there was more about the abilities of the characters. Hopefully, there will be more of that in the second book!
I've decided to start including whether or not I'll continue on with this series in my reviews. For the Hourglass trilogy, I'm definitely planning on continuing on. I've seen that the sequel, Timepiece, is told by another narrator that is a character I want to know more about. I'm excited for this one because I'm sure it will include more paranormal world building, and continue on with the overarching story and have some fantastic character development. While I was definitely not a fan of the protagonist, this is a unique paranormal that I can't wait to continue on with the world and series with another perspective in the sequel.
From the paper world,
V