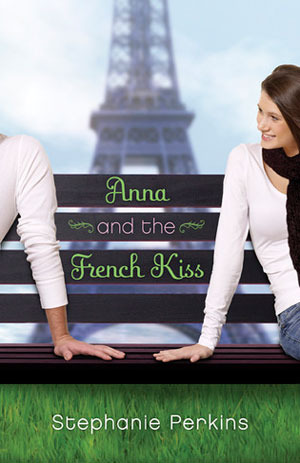 Anna is looking forward to her senior year in Atlanta, where she has a great job, a loyal best friend, and a crush on the verge of becoming more. Which is why she is less than thrilled about being shipped off to boarding school in Paris--until she meets Étienne St. Clair. Smart, charming,
beautiful
, Étienne has it all...including a serious girlfriend.
But in the City of Light, wishes have a way of coming true. Will a year of romantic near-misses end with their long-awaited French kiss?
Rating - 5 Stars
Major Pros - Writing, Setting, Character Development and Interaction, Plot Development
Major Cons - Minor issues with some supporting characters
Continuing on with the series? Absolutely!
How I Read It - Purchased

Today's review is going to mainly consist of me talking about my love for this book. I struggled trying to find cons to put in the quick info above. So, before I start, let me say that Anna and the French Kiss is absolutely wonderful, creative, and sweet.

I didn't put this book down. I mean that literally- I read it in one sitting, except for the last few chapters which I saved for later so I wouldn't have to say goodbye. I fell in love with this book. It completely pulled me in and I was sitting there with Anna, her group, and of course Etienne St. Clair. For me, this was one of those books that swept me away. I needed a light, happy read and this book was absolutely perfect, but it didn't read as overly cutesy with no substance. These characters were developed, and they didn't have perfect lives, which added depth to the story.

Let's talk about the setting, Paris. The writing that portrayed Paris was inspiring- it didn't focus on cliche things, and it brought lifelike detail to the city. I truly loved how Paris was portrayed, and I think it was well done and expressive.

The characters were also fantastic in this novel, although some of the side characters were a little stereotypical mean high schoolers without much dimension, the vast majority of the characters in this book were unique, layered, and developed. I loved how we not only knew Anna, but we got to know her friends and the people around her. There was wonderful characterization throughout, and the romance was never obnoxious. I personally don't read many contemporaries because I'm not the biggest fan of overly romantic stories, but Anna and the French Kiss was beautifully written and done.

I recommend this book. That's an understatement, to be honest. I think there's something in here for everyone to enjoy, and this is a marvelous story with truly memorable characters. Reading it, I could tell that this is a novel I'll treasure and reread any time I need another heartwarming, beautiful story.
From the paper world,
V