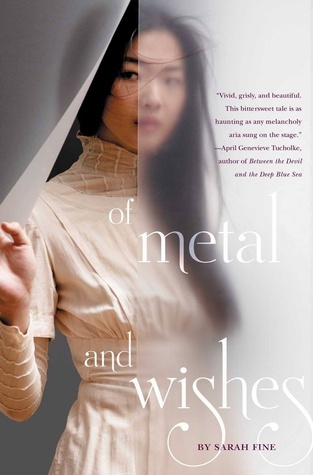 There are whispers of a ghost in the slaughterhouse where sixteen-year-old Wen assists her father in his medical clinic—a ghost who grants wishes to those who need them most. When one of the Noor, men hired as cheap factory labor, humiliates Wen, she makes an impulsive wish of her own, and the Ghost grants it. Brutally.
Guilt-ridden, Wen befriends the Noor, including their outspoken leader, a young man named Melik. At the same time, she is lured by the mystery of the Ghost and learns he has been watching her … for a very long time.
As deadly accidents fuel tensions within the factory, Wen must confront her growing feelings for Melik, who is enraged at the sadistic factory bosses and the prejudice faced by his people at the hand of Wen's, and her need to appease the Ghost, who is determined to protect her against any threat—real or imagined. She must decide whom she can trust, because as her heart is torn, the factory is exploding around her … and she might go down with it.
Hey, everyone! I'm excited to be sharing a review with you all about Of Metal and Wishes, an amazing Phantom of the Opera retelling I read. Of Metal and Wishes is a retelling that is dark and mysterious, much like the original story, but in a unique setting and story that follows some really interesting and complex characters. This book is fast paced and interesting, with a lot of unique elements to it that make it a fantastic retelling. I gave Of Metal and Wishes 4.5 stars, and it's a definite favorite read of mine.
The story takes place in a factory setting that has a dark, gritty, and harsh atmosphere. It's a really difficult life for the characters, and for the protagonist Wen as she navigates the world of the factory, which is filled with danger and intrigue. The book starts off and almost immediately there are mysterious occurrences and goings on. The Phantom was portrayed in a really unique way as well as the way the people viewed him. In addition, this is a really unique story- it definitely has a lot of the elements of The Phantom of the Opera, but as the story unfolds I couldn't predict some of the plot twists and what occurred. The story has an amazing group of characters that are well developed- even secondary characters have flaws and problems but good qualities as well.
The main characters are also really dynamic and well developed. Wen is a young girl who has to try and navigate the life before her, and she goes through a lot of character development. She's thoughtful and caring. Reading from her perspective made the story intriguing as Wen is thrown into the mysteries surrounding the factory. I loved learning more about her character throughout the novel. In addition, her interactions with the other characters brought a lot of dimension to them all. This novel is action filled, but also very character driven. We're given a lot of insight into life at the factory and how it impacts everyone from Wen to the workers, and each person has good and bad qualities to them.
The story is fast paced and action packed, with a lot of twists and turns. There are definitely some great retelling elements woven in as this Phantom of the Opera retelling goes on, and I really appreciated reading this story. I am so excited for the sequel that comes out in August, and to read on with this story.
From the paper world,
V