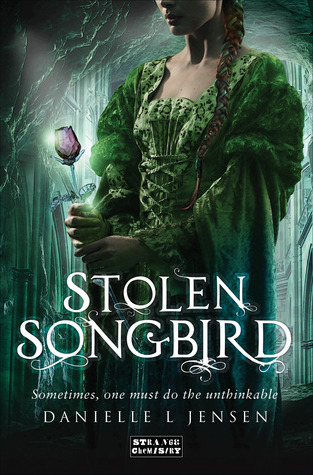 For those who have loved
Seraphina
and
Graceling
comes another truly fabulous fantasy...
For five centuries, a witch's curse has bound the trolls to their city beneath the ruins of Forsaken Mountain. Time enough for their dark and nefarious magic to fade from human memory and into myth. But a prophesy has been spoken of a union with the power to set the trolls free, and when Cécile de Troyes is kidnapped and taken beneath the mountain, she learns there is far more to the myth of the trolls than she could have imagined.
Cécile has only one thing on her mind after she is brought to Trollus: escape. Only the trolls are clever, fast, and inhumanly strong. She will have to bide her time, wait for the perfect opportunity.
But something unexpected happens while she's waiting – she begins to fall for the enigmatic troll prince to whom she has been bonded and married. She begins to make friends. And she begins to see that she may be the only hope for the half-bloods – part troll, part human creatures who are slaves to the full-blooded trolls. There is a rebellion brewing. And her prince, Tristan, the future king, is its secret leader.
As Cécile becomes involved in the intricate political games of Trollus, she becomes more than a farmer's daughter. She becomes a princess, the hope of a people, and a witch with magic powerful enough to change Trollus forever.
Rating - 4/5 Stars
I am so excited to share my first 2014 debut read with you all. It also happens to be the 2014 debut I said I was most excited for, and so I'm really happy to be reviewing Stolen Songbird by Danielle L. Jensen today.
So, let's just jump right in to talking about the world in this book. Trollus is richly developed and reading through it I could picture a lot of the cityscape as the story took place. The labyrinth, Cecile's home, and the other settings were interesting enough, but Trollus is the place that really shined in the book.
The characters were also really interesting, and I liked how they had so many characterisitics and quirks. I really liked the supporting characters- Marc, for example, was interesting and kind but had more to his character than appeared, and his backstory and ferocity are two unexpected qualities that are revealed throughout the novel. What I really loved was how layered the characters could be, and how they weren't necessarily entirely likeable or not. I think this is something that can only continue on in the sequels.The main two characters' interactions and relationship was one of the driving points of the novel. Cecile was a strong narrator and a protagonist that didn't fall flat. Tristan was unique, and reading from his point of view really added to the story and my appreciation of everything going on.
To me, the only thing this book was missing was some of the political intrigue that I had wanted from the summary. There are some goings-on and unrest, but I thought there would be more court intrigue or more of a conflict for Cecile to notice and be caught up in. There was a lot of build up to an ending that felt abrupt, but with everything going on I'm already anticipating the sequel. Books like this are going to make me create a 'Can't Wait Books of 2015' shelf!
Overall, this was a book that didn't disappoint. While there wasn't as much intrigue and development in that area, this is a fantastic start to the series. The characters have a lot of depth and interesting backstories, and the world of Trollus was fascinating. I gave this 4 out of 5 stars, and I'm so excited for the sequel.
I'm excited to have read my first book for The Story Siren's 2014 debut challenge! The goal of this challenge is to read 12 new debuts.
What are some debuts you've read this year? Have you read Stolen Songbird?
From the paper world,
V