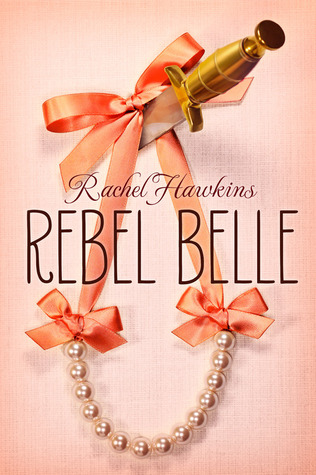 Harper Price, peerless Southern belle, was born ready for a Homecoming tiara. But after a strange run-in at the dance imbues her with incredible abilities, Harper's destiny takes a turn for the seriously weird. She becomes a Paladin, one of an ancient line of guardians with agility, super strength and lethal fighting instincts.
Just when life can't get any more disastrously crazy, Harper finds out who she's charged to protect: David Stark, school reporter, subject of a mysterious prophecy and possibly Harper's least favorite person. But things get complicated when Harper starts falling for him--and discovers that David's own fate could very well be to destroy Earth.
With snappy banter, cotillion dresses, non-stop action and a touch of magic, this new young adult series from bestseller Rachel Hawkins is going to make y'all beg for more.
Rating - 4.5/5 Stars
I finally managed to readalong with the Booksplosion book of the month, and apparently this is one that has been super popular! Rebel Belle by Rachel Hawkins is the first in a new series, and I really enjoyed this. Initially, I wasn't as interested in the book, and the cover didn't appeal to me as much as it had other people. However, I decided to pick this book up, and I'm really happy I did.
Rebel Belle is set in a Southern town, and the setting is really a cute addition to the story. The writing style seems almost nostalgic, showing Harper's affection and love for her home and lifestyle. Other stories I've read that are set in small Southern towns but they didn't seem to capture this same sweet sentimentality that Harper has for her home. So, while the setting was modern day, it was written very well.
Harper and the other characters are ones that I see myself staying interested in as the story progresses. As a narrator, Harper keeps a quirky humor in her narration, and I was never bored by her method of storytelling. Her friends were also more endearing and involved than the usual 'best friend of someone with secret powers' trope, and as the story progressed I came to appreciate the supporting characters and their contribution to the novel. I will say there were ones that annoyed me endlessly in the novel, but the more major characters entertained me enough to make the whole thing manageable.
I think a few words should be said about David Stark and Harper's interactions. They are witty, bantering gold. These two can trade jabs like Beatrice and Benedick of Much Ado About Nothing, and this modern day duo was funny yet smart and thoughtful individuals.
The only reason I ended up giving this book 4.5 stars of 5 was simply because I felt like the ending was a little rushed. After all of the build up, there was action, but I felt like it was less than what had the build up had been for. While I wasn't really disappointed, I did feel like the story ended a little aprubtly.
Overall, I definitely recommend this series. It's a lot of fun and witty humor, as well as a unique storyline and start to an adventure. Harper is an excellent narrator and protagonist, and her interactions with David and the others make this series really memorable.
Did you do the readalong?
From the paper world,
V