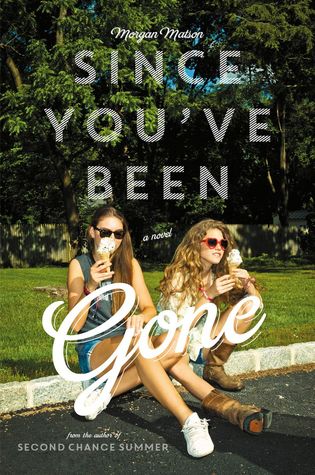 The Pre-Sloane Emily didn't go to parties, she barely talked to guys, she didn't do anything crazy. Enter Sloane, social tornado and the best kind of best friend—the one who yanks you out of your shell.But right before what should have been an epic summer, Sloane just... disappears. No note. No calls. No texts. No Sloane. There's just a random to-do list. On it, thirteen Sloane-selected-definitely-bizarre-tasks that Emily would never try... unless they could lead back to her best friend. Apple Picking at Night? Ok, easy enough.Dance until Dawn? Sure. Why not? Kiss a Stranger? Wait... what?
Getting through Sloane's list would mean a lot of firsts. But Emily has this whole unexpected summer ahead of her, and the help of Frank Porter (totally unexpected) to check things off. Who knows what she'll find?
Go Skinny Dipping? Um...
Rating - 4 Stars
Major Pros - Fun, Lighthearted, Interesting Story
Major Cons - Love Story, Ending
How I Read It - Gifted
It feels like forever since I've written a review for a book on the blog. I've been trying to post the rest of my reviews for books that I read in the first part of 2014 (isn't it strange to think that the years halfway through?) and so any reviews I was writing as I finished a book were typically being posted on my Goodreads. However, today I'm here with a review for a contemporary I've heard tons of hype about, and that seemed like an ideal summer read.
Since You've Been Gone follows Emily, a protagonist that I took awhile to enjoy reading about and from her perspective. Emily is very dependent on her best friend Sloane, and while I'm introverted and can understand that aspect of her character, the dynamics of this relationship left me with mixed thoughts. Emily's character development was definitely gradual, which didn't bother me, but it seemed nonexistent in the first part of the book. I didn't find myself immediately engrossed in the story because Emily wasn't a very engaging narrator for me. However, as time goes on and the group of central characters emerges, the story becomes even better.
Emily definitely doesn't start out as my favorite narrator, but she definitely undergoes some great character development. Her friends aren't perfect either, but I think together they all made a good team and found ways to bring out the best in each other. The romance in this story was well written, but I didn't think it unfolded in the best way considering the circumstances. Altogether, I loved how the characters turned out because it felt like a unique, memorable group of characters that had developed throughout the course of the novel.
The ending was a good resolution to the story, but also felt a bit unresolved to me in certain areas. In a sense I'm almost expecting a sequel because some of the character relationships and dynamics felt unfinished to me. I think that I'm content enough with the ending but I can see how some of the characters were left with more to tell.
In general, I think this was a fun story after I got into reading it. Although I think the hype was a bit much for me, Since You've Been Gone is a unique contemporary that I enjoyed.
From the paper world,
V