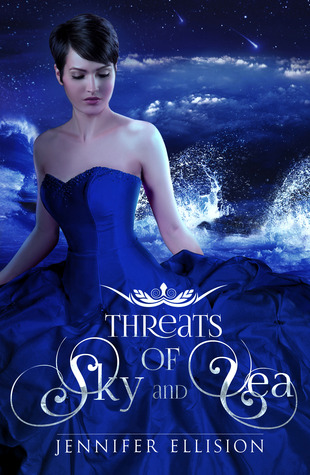 Sixteen year-old Breena Perdit has spent her life as a barmaid, innocent to her father's past and happily free from the Elemental gifts that would condemn her to a life in the Egrian King's army. Until the day that three Elemental soldiers recognize her father as a traitor to the throne and Bree's father is thrown in jail—along with the secrets from his last mission as the King's assassin. Secrets that could help the King win a war. Secrets he refuses to share.
Desperate to escape before the King's capricious whims prove her and her father's downfall, Bree bargains with him: information for their lives. It's a good trade. And she has faith she'll get them both out of the King's grasp with time.
But that was before the discovery that she's the weapon the King's been waiting for in his war.
Now, time is running out. To save her father's life and understand her own, Bree must unravel the knot of her father's past before the King takes his life– and uses her to bring a nation to its knees.
Rating - 4 Stars
Major Pros - Unique, Writing Style, Character Development, World
Major Cons - Slow Moments
Continuing on with the series? After that ending, I am eagerly anticipating the next book!
How I Read It - The author provided me an e-copy in exchange for an honest review.
Today's review is about a book I heard about a few months ago and was immediately intrigued about, Threats of Sky and Sea. So, when the author contacted me asking if I would like a review copy, I happily accepted and settled in to read the book. Firstly, I just have to say that this is such a fantastic story. Fantasy is a genre that I typically don't read as much, for various reasons. But this book completely drew me in. Threats of Sky and Sea includes the concept of Elementals, and the individuals with power over air, fire, water, or earth have a very unique position within the society. I loved how the world building and societal dynamics impacted the main character in this story, and how she learned to navigate her story. However, I did find that the pacing of this story would slow during certain times throughout the novel, and this was the main flaw in the story.
This novel had a lot of great qualities that made it a wonderful fantasy story. The world was very unique in the development of Elementals, their titles, and the specific characters who were Elementals. There were both good and bad Elementals, and they were developed to be dynamic and the Elemental abilities they had were only a facet of their personality. The writing flowed well and made the story interesting and generally kept me entertained and completely immersed in the story. Both the characters and world were interesting and well written.
For me, the pacing of the novel was sometimes slow. In general, first books do need a considerate amount of world building, and initial character development and conflict introduction. However, I still thought that there were slower moments in the story when not much was happening. It left the pacing a little inconsistent and the slower moments took away from the rest of the book. However, these moments didn't detract from how unique this story is, and how interesting the story is. I think this is a fantasy that will appeal to a wide range of readers, even those who don't pick up as many fantasy novels like me.
From the paper world,
V