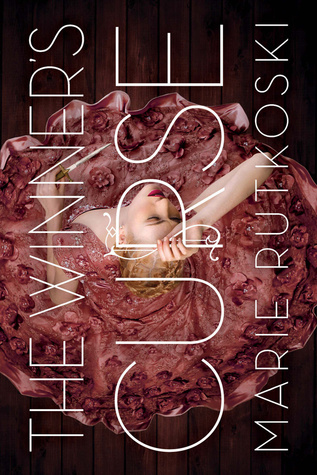 Winning what you want may cost you everything you love...
As a general's daughter in a vast empire that revels in war and enslaves those it conquers, seventeen-year-old Kestrel has two choices: she can join the military or get married. But Kestrel has other intentions.
One day, she is startled to find a kindred spirit in a young slave up for auction. Arin's eyes seem to defy everything and everyone. Following her instinct, Kestrel buys him—with unexpected consequences. It's not long before she has to hide her growing love for Arin.
But he, too, has a secret, and Kestrel quickly learns that the price she paid for a fellow human is much higher than she ever could have imagined.
Set in a richly imagined new world,
The Winner's Curse
by Marie Rutkoski is a story of deadly games where everything is at stake, and the gamble is whether you will keep your head or lose your heart.
Today, I'm here to talk about The Winner's Curse by Marie Rutkoski. I heard a lot of people talking about this book when it first came out, and then again later on a lot of people were saying it was one of their favorite reads of 2014. After hearing so many incredible things about the novel, I was excited to pick it up and read it. The Winner's Curse is definitely an adventure- fast paced, unpredictable, and filled with plenty of plot twists. I'm pretty sure I said aloud "I can't believe that happened!" at least once while reading this novel. It's definitely a unique fantasy novel unlike any I've read so far. I gave The Winner's Curse 4.5 Stars.
As you may have heard, The Winner's Curse is a fantasy but without the more fantastical, magical elements. As we read, we learn more about the Valorians and the nation of Herran and the Herrani people, and Kestrel and Arin. Kestrel is a great protagonist. She's smart, resourceful, and cunning, which is a quality that she displays through her observing and analyzing events. Arin is a character that's endured incredible hardships and has a strength and resolve to him. The two take turns being the center of the story's perspective, and I thought this juxtaposition really added to the novel. We learn much more about the world and its goings on through this, as well as get to know more about the characters.

In terms of the story, The Winner's Curse is fast paced and intriguing, with a lot of plot twists. I found it very difficult to put the book down, and I was engrossed in the events of the novel. There's a lot of different things going on, and while sometimes I felt like the story was a little abrupt in shifting, overall I thought it was really unique and dynamic.
The Winner's Curse is a fantastic novel. It's a fantasy novel that trades magic for mystery, and it immerses you into the world of Kestrel and Arin. The book is fast paced, interesting, and exciting. I think this is a great book!
If you liked Poison Study by Maria V. Snyder and Throne of Glass by Sarah J. Maas, then you might like The Winner's Curse!
Have you read this novel? If so, what did you think? I would love to discuss this book some more! And stay tuned for my review of the sequel, coming up next week!
From the paper world,
V