Today I'm here to do A Series in Summation! I haven't done one of these types of reviews in awhile, so if you're unfamiliar with them, A Series in Summation is just how I review all the books of a series in one quick post. A lot of times I'll do this if I never reviewed the first book or so in a series and then, after completing the series, I can share my thoughts of all of the books instead of just writing a review of one book in the series. Today's review is about a series I started years ago and only just recently read the third and final book. I'm talking about The Princesses of Westfalin trilogy by Jessica Day George.
This is a series of retellings that interweaves the story of The Twelve Dancing Princesses through each novel but adding subsequent fairy tales in the sequels. It reminds me of The Lunar Chronicles in that sense, but this trilogy is definitely more fairy tale, fantasy setting. Princes and princesses, balls and gowns, and of course the classic fairy tales retold in these novels. If you've followed the blog for awhile, you probably know by know I love fairy tale retellings. They've been some of my favorite types of books for as long as I can remember, going back to when I first saw Disney movies and discovered fairy tales. Anyways, today's novels are no exceptions. I really enjoyed this trilogy. Overall, it's a great fairy tale retelling series that I've really enjoyed. Now, I want to talk a little bit about each book individually.
*there can be spoilers in the synopsis and reviews for the sequels!
Book 1: Princess of the Midnight Ball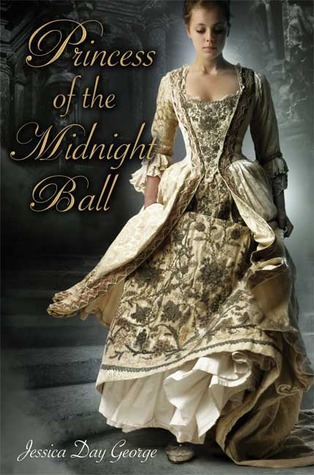 A tale of twelve princesses doomed to dance until dawn…
Galen is a young soldier returning from war; Rose is one of twelve princesses condemned to dance each night for the King Under Stone. Together Galen and Rose will search for a way to break the curse that forces the princesses to dance at the midnight balls. All they need is one invisibility cloak, a black wool chain knit with enchanted silver needles, and that most critical ingredient of all—true love—to conquer their foes in the dark halls below. But malevolent forces are working against them above ground as well, and as cruel as the King Under Stone has seemed, his wrath is mere irritation compared to the evil that awaits Galen and Rose in the brighter world above.
Captivating from start to finish, Jessica Day George's take on the Grimms' tale
The Twelve Dancing Princesses
demonstrates yet again her mastery at spinning something entirely fresh out of a story you thought you knew.
I read this one quite a long time ago, but I remember really enjoying it. I went through a phase where I read a lot of retellings of The Twelve Dancing Princesses, and I remember this one because it really explored the fairy tale in depth. The idea of being at an endless ball is something that the author really expands upon and brings in a lot of background and world building to. I thought this was a really interesting aspect because the way the author portrayed it made this retelling quite a bit darker, but also included interesting little tidbits in character development. It also had action and adventure to it as well, and I remember really enjoying the novel. With a retelling like this that features such a large group of central characters, it can be easy to feel like there isn't enough character development. However, while the novel definitely focused on one of the princesses, a lot of them were featured and had character development in a way that really made this a unique and memorable story. This was definitely one of my favorite retellings of The Twelve Dancing Princesses, and made me eager to continue on with the series.
Book 2: Princess of Glass
Hoping to escape the troubles in her kingdom, Princess Poppy reluctantly agrees to take part in a royal exchange program, whereby young princes and princesses travel to each other's countries in the name of better political alliances--and potential marriages. It's got the makings of a fairy tale--until a hapless servant named Eleanor is tricked by a vengeful fairy godmother into competing with Poppy for the eligible prince. Ballgowns, cinders, and enchanted glass slippers fly in this romantic and action-packed happily-ever-after quest from an author with a flair for embroidering tales in her own delightful way.
Rating: I didn't rate it at the time, but I would say about 3 out of 5 stars
Despite enjoying the novel, this was definitely my least favorite book of the trilogy. I read it around the same time as Princess of the Midnight Ball, but it didn't stand out to me as much. It incorporated the Cinderella fairy tale into the series while following one of the original twelve princesses. I think this is a really unique take on the Cinderella story, because it has a much different tone and plot development than the original story. However, I really wasn't a fan of Eleanor's character in this story. I didn't end up really enjoying this novel as much I think because I didn't feel like there was enough character building and development for me to really connect to the story. I loved revisiting the characters and the world, and thought it was a good read, but I didn't love it as much as the first novel.
Book 3: Princess of the Silver Wood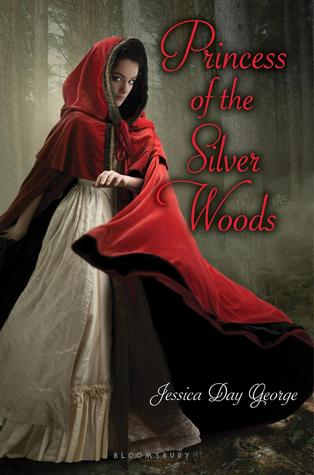 When Petunia, the youngest of King Gregor's twelve dancing daughters, is invited to visit an elderly friend in the neighboring country of Westfalin, she welcomes the change of scenery. But in order to reach Westfalin, Petunia must pass through a forest where strange two-legged wolves are rumored to exist. Wolves intent on redistributing the wealth of the noble citizens who have entered their territory. But the bandit-wolves prove more rakishly handsome than truly dangerous, and it's not until Petunia reaches her destination that she realizes the kindly grandmother she has been summoned to visit is really an enemy bent on restoring an age-old curse.
The stories of Red Riding Hood and Robin Hood get a twist as Petunia and her many sisters take on bandits, grannies, and the new King Under Stone to end their family curse once and for all.
This final book I actually picked up and read recently. It had been years since I'd first started reading the trilogy, but I really enjoyed this novel. This was a story that really brought everything together. This trilogy was definitely a darker take on fairy tale retellings, and a lot of what began in the first book really developed and expanded in this third novel. I think it was interesting that we had such a long time jump in that this novel focuses on the youngest sister who was quite a bit younger in the first novel, although it was kind of nice to see how the character's lives had progressed. This is a retelling of Little Red Riding Hood and Robin Hood (which I didn't know while reading the story but it makes sense), but with a lot of twists and unique aspects that made it a unique story. It incorporated the overarching elements of the series into the conclusion, and there were some unpredictable moments. Even though it had been years, I still loved the characters and the world, and so I was really happy to have finished reading about the princesses and their adventures.
If you liked The Lunar Chronicles by Marissa Meyer or Entwined by Heather Dixon, you might like The Princesses of Westfalin trilogy!
From the paper world,
V